I have always enjoyed watching movies and TV. I enjoy all kinds of shows and use Youtube extensively for educational and entertainment purposes. I am not a hard core fan of anything but I do enjoy watching moving pictures. I enjoy going to the theater but it can be annoying when people want to talk during a show. Also with the pandemic theaters are now a no go for me.
When we started designing our home I knew I wanted a basement with a home theater. I knew that Kate would be smart and get us a place to sleep and eat, but I was focused on one thing: Having a large screen and surround sound system for watching movies.
At the start I wanted to have two thirds of the basement be one huge open room. It would have been 23 feet wide and 27 feet long. Then our builder told me how large of a beam they would need to install to make that work. We quickly redesigned the basement to have a weight bearing wall halfway across the 27 foot run. This added two bedrooms/offices/workout rooms at the south end, with a large room in the center.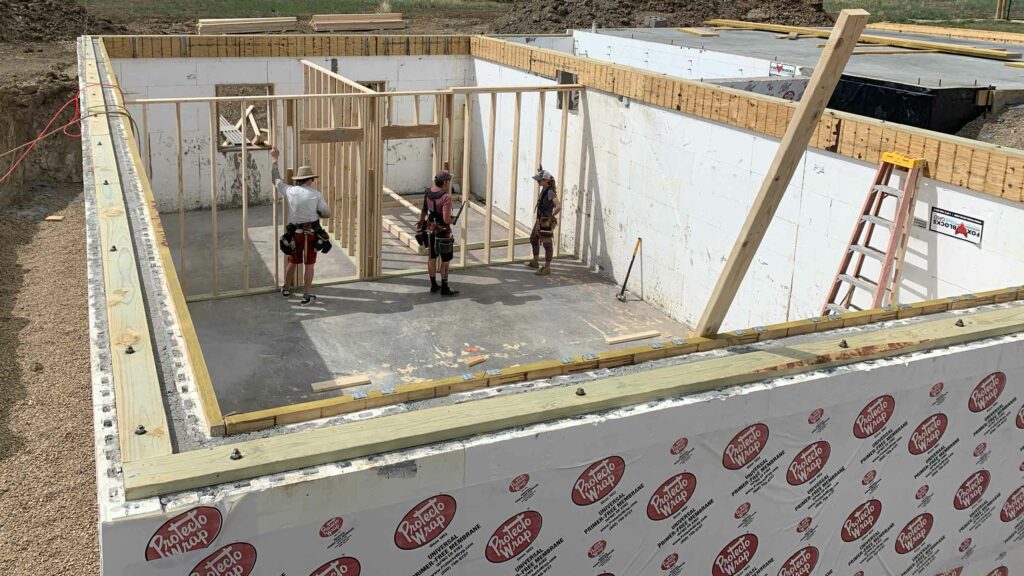 While the center room ended up about half the size I had originally wanted, it was still plenty large enough for a 120 inch projector screen. Going from a 13 inch laptop would be quite the upgrade.
With the room size determined, layout was the next focus. For a projector to create a 120 inch screen you generally want about 12 feet of distance from the lens to the screen. That is also the ideal distance to sit from a 120 inch screen so that you can see everything without turning your head.
Since the room is 23 feet by 13 feet I could have pointed the projector to any wall in the room. However from a sound system perspective it is best to have some distance behind your head and the back wall. This allows you to place the rear and surround channel speakers further behind for greater effect. It also helps with reverb and acoustic stuff.
With sound in mind it made sense to either place the screen on the east or west wall. Since the stairwell comes down to the west it made the most sense to place the screen on the east wall. This would allow me to place low level stair lights that would not effect the image quality. Also when you enter the theater room you aren't walking in front of the screen.
One thing I picked up while learning about home theater design is to place your receiver and electrical equipment to one side of the room. Then you don't have to see the lights from the equipment when watching the screen.
The stairwell comes down on the north side of the theater room. So we added a cubby hole under the stairs where I can put the electronics, with room for expansion.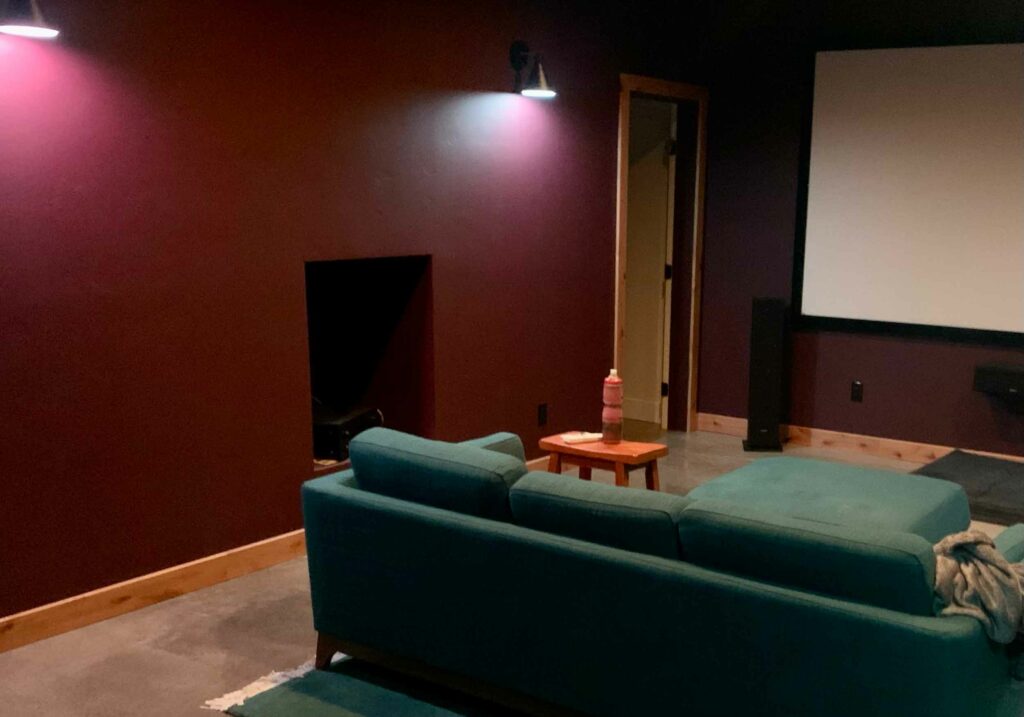 With the location of the receiver determined I knew where to run all the speaker wire. The question was how many speakers to run. Dolby surround sound comes in a number of flavors:
5.1 is the bare minimum with the standard left and right front channels, a center channel, two surround channels, and one subwoofer.
5.2 adds a sub.
7.1 and 7..2 add two rear channel speakers.
5.1.2, 5.2.2, 7.1.2, and 7.2.2 adds two height channel speakers also known as Atmos.
5.1.4, 5.2.4, 7.1.4, and 7.2.4 adds four height/Atmos channel speakers
The most common setup is 5.1 and this is also the most common option recorded in most movies. More and more movies are adding height/Atmos support. I figured that speaker wire is pretty cheap so wired the room for 7.2.4 with the plan to setup 5.1.4 initially.
There were a few factors in opting for 5.1.4 for the initial setup:
There would be fewer speakers, which saves money.
I would only need a main receiver/amp to power everything.
The improvement in sound over my laptop would be incredible and probably enough, for now.
Once I had the layout configured it was time to start shopping for speakers, receiver, and projector. This is where I started feeling overwhelmed with the options and costs. It turns out that speakers, receivers, and projectors can all get crazy expensive and complicated.
In the end I went with some solid Sony speakers that didn't break the bank but were high enough quality that they make the room feel solid. One thing I learned is that you want to stick with one speaker manufacturer for the entire system of speakers. Apparently they are tuned to each other or something like that. I feel like I read this on enough different websites and forums that it might be the truth and not some way for speaker manufacturers to sell more stuff.
I spent a solid chunk of change on the receiver to get 5.2.4 of speaker channels without an external amp. It also has future support for 8K projectors when we start using them in 4 to 5 years. The receiver should outlast the speakers and projector, so it made sense to invest there. I went with a Denon AVR-X4700H.
For the projector I initially thought I would go with a 1080p resolution as that would be good enough, and it would keep the costs down. As 2021 progressed the price of the BenQ HT2050A crept upward to $700 while its 4K replacement, the BenQ HT3550, was holding at around $1700. More than doubling the price but giving me beautiful 4K resolution. Then I saw a refurbished option for just over $1200 and jumped on that.
With the equipment selected I needed to start thinking about finishing the theater room. Paint was a big decision. You do not want to use white or any bright colors in a theater room. The light from the projector or TV will bounce off of the bright walls and wash out the image. Ideally black is the best color for a theater room as it absorbs the light and makes for the best viewing experiences.
Unfortunately a black room is also a bit terrifying because it is black. Burgundy is often used instead to create a more comfortable room when you have the lights up and aren't watching a movie. While we were looking at paint colors for the rest of the house I started evaluating dark reds. Eventually I settled on Sherwin Williams' Merlot.
Color is the most subjective thing I can think of and I got quite a few side glances from the builders when I proposed painting the stairwell and entire theater room with this dark color. I had a few panic moments over my decision, especially after it was first applied to the walls and ceiling. In its wet state it gave off a lot of sheen and looked really scary.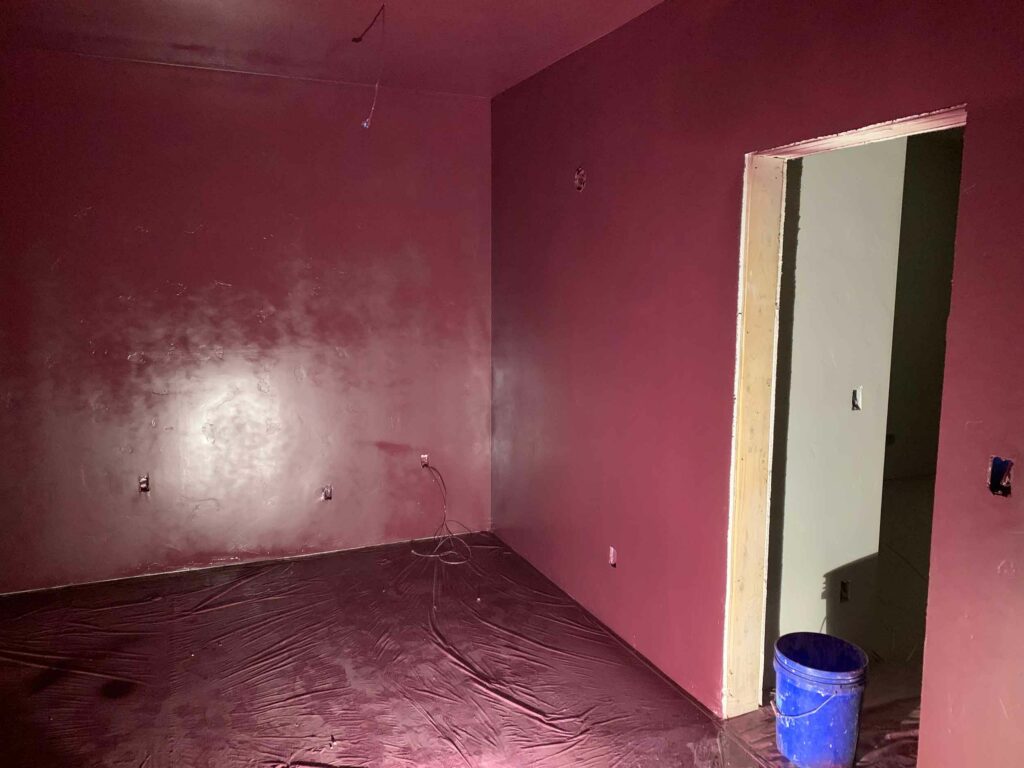 Fortunately it dried to the correct sheen and became much more comfortable to live in. I am really happy with how it came out and think that it works well when watching a film but also is nice to sit in with the lights on. I primarily work from this room sitting on the couch.
I have learned to leave the projector off during the workday as it is just too distracting. One really cool thing about the Apple TV is that I can use the projector as a monitor with no cables involved.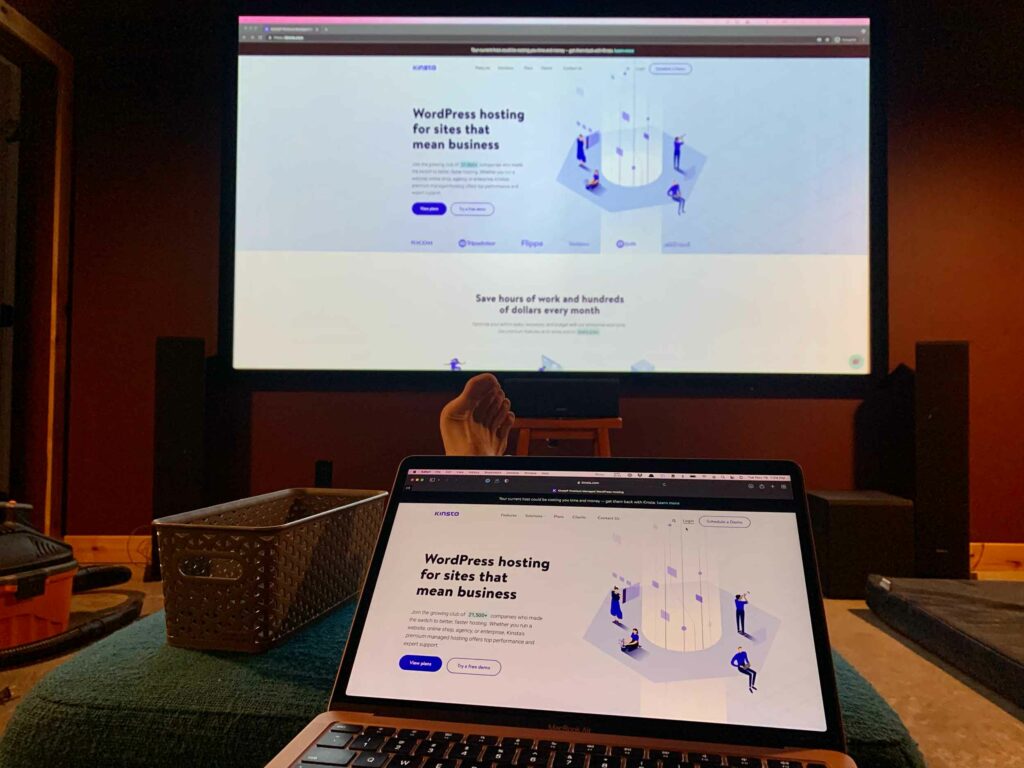 With the walls painted and the house finished it was time to install and test the setup. I was pretty nervous about the speaker wiring and if I had installed it all correctly. I was also nervous as a lot of construction happened after I installed the wiring. Did the dry-wallers cut or crimp any of the wiring?
Fortunately everything worked and the home theater is my favorite room in the house. I need to work on hanging acoustical panels on the walls and ceiling, but it sounds fine to me right now. I can also add another sub but the existing one sounds fine and creates enough bass to elicit noise complaints from upstairs already. I can also add two rear channel speakers but need to get another amp for that. If I do that upgrade I will have the amp power the two front and center speakers and connect it to the Denon via the pre-outs. The HDMI cable is run through a conduit so that I can replace it when the HDMI standard is inevitably changed again. However there is no hurry to spend more money on this project right now.
All said I spent a little over $4000 on the electrical equipment for the theater room. Not cheap compared to a TV with a soundbar, but very cheap compared to most of the home theater setups I have seen online. Looking back at the project the only thing I would have done differently would have been to run the speaker wires longer. Right now one of the runs is a little short and makes the setup in the cubby a bit cramped.
When we were building the house Kate was a bit dismissive of the theater room. She did not grow up watching TV and movies so does not share my addiction. Now that we have moved into the house she has started warming up to the benefits of having a dedicated theater room. It allows us to keep the living room free of a TV, which we both prefer. However when the mood strikes we can easily retreat downstairs and enjoy some escapism.