Today marks the third and shortest riding day of the tour. Bisbee to Tombstone is just 24 miles. Sure there's a hell of a climb out of Bisbee and another insane climb five miles from Tombstone but otherwise we got a massive descent.
Initially we were thinking of taking the morning to chill in Bisbee but the OK Cafe in Tombstone only served their veggie burger till 2pm so we cruised out just after 10am.
The climb out of the town of Bisbee is deceptively easy at first. Sure you are climbing out of town but it's not till the buildings stop that the climb gets really steep. Then you get to the tunnel.
The tunnel is about a mile long and is a steep climb. Once we got through it and to the other side a local rode up from the old pass road to let us know that people die in there all the time on bikes. We wished her a happy day and rode onto Tombstone.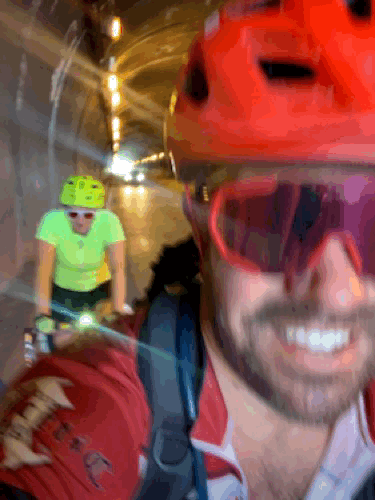 Tombstone is probably most famous at this point for the historically questionable 1988 movie starring Curt Russell, Val Kilmer, Powers Booth, and a shit-ton of notable rich people from Hollywood. The town is a replica of the movie at this point with actors playing out the shootout at the OK Corral on a daily basis. It reminds me a little of sixth street in Austin.
At just 24 miles we only spent 2.5 hours getting to Tombstone and used the day as a recovery day. After unpacking and cleaning up we both took a restless nap listening to the strong winds which we managed to miss on our ride. Another good reason for riding earlier.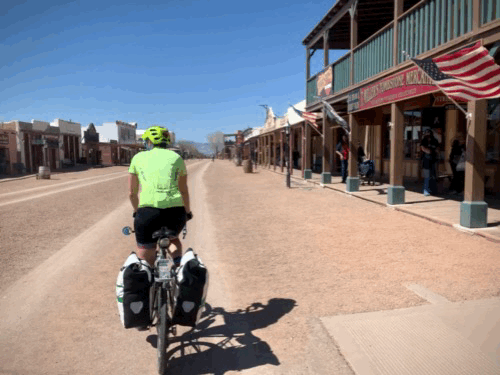 Here are the Strava details:
Tomorrow we ride back to Sonoita. At just 38 miles it will be the second shortest day of the tour. It is also our wedding anniversary so it will be nice to not spend the entire day riding.