So close to the weekend! What are your plans? I am gonna get a couple of bike rides in, naturally. Hopefully I will have all the equipment gathered to wax my bike chain for the first time. I hope to have a report on that shortly.
I don't know about you but I have an addiction to my screens. When we hit to road we eliminated the TV screen but the laptop and phone still dominate our attention. I have been trying to practice just being aware of how much of my attention is focused on screens throughout the day. TLDR; its a lot.
My current focus is to get up and out of bed without looking at my phone. I can hit the stop button for its alarm clock but I cannot look at the screen until after I am up and moving. Even then I need to resist checking the news, twitter, email, texts, etc. My reasoning is that these are distractions from my own thoughts. First thing in the morning I should be taking the time to check in with myself. How do I feel today, physically and mentally? What big things do I need to accomplish today? Its way too easy to fall into the routine of following what your screen tells you to do. There is enough time for that later, but the morning should be your time to think about what you want to accomplish today. Then do it.
Workout Details: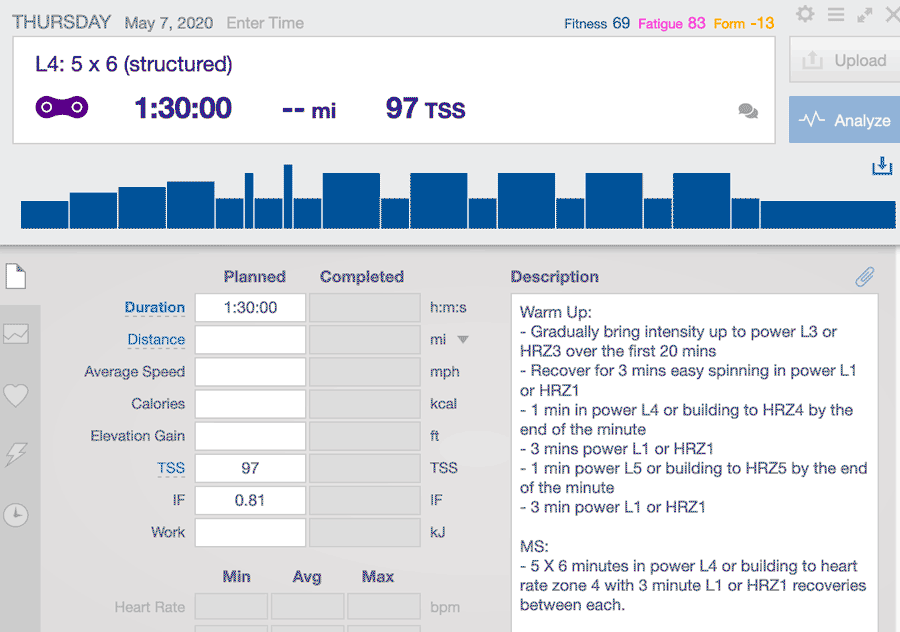 Today we do 6 minute intervals 5 times with 3 minutes of recovery in between. The pace of the intervals should put my heart rate into zone 4 or perceived effort of heavy breathing with limited ability to talk. In other words we are going to go hard then rest then do that 4 more times.
Last week was a 4×6 so we are stepping things up a bit. Next week is a rest week with a Heart Rate performance test on Saturday. That will help identify how the training for 6 weeks has affected me. At the start of the 12 week training program I did a performance test which involves pedaling as hard as you can maintain for 20 minutes. From that you take the average heart rate and that is your threshold heart rate. You can do math to figure out your heart rate training zones or just plug it into the Training Peaks calculator like this: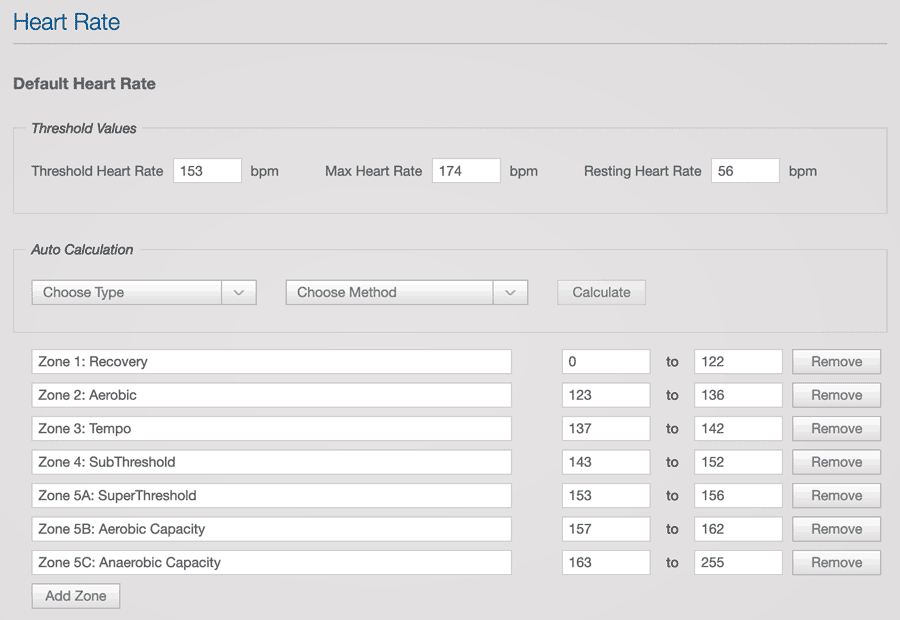 This then gives me a guide for my training. When I need to ride in zone 2 I know to stay within 123 and 136 bpm. Usually I aim for 130 bpm for Level 2 cause its easy to remember when I glance at my watch during a ride.
It would be really nice if Apple let you set these values in the Watch, but they don't yet. (I have submitted a feature request on this, naturally.) Having them set in the Watch means it would vibrate and notify me when I am in the wrong zone. This is available in more specialized sport technology from Garmin. However with those devices you have to wear a heart strap which I am not a fan of.
Personally I don't understand why Apple hasn't just purchased Training Peaks at this point. The software fits into their goal of helping people track their health. In fact it does one step better than Apple's system as it tracks fatigue. Fatigue is important to track as it can lead to over training which can become a big problem. Currently Training Peaks is free to use and $120 if you want all the bells and whistles. Apple could make it free software with every watch. This then gives coaches a broader base of users to work with on Training Peaks as well.
The workout was great and the route worked perfectly. I got a 20 minute warm up getting over to Road 40. Then rest for 3 min with 1 min of Zone 4. Then rest for 3 min then 1 min of zone 5. Then rest for 3 min and begin the workout.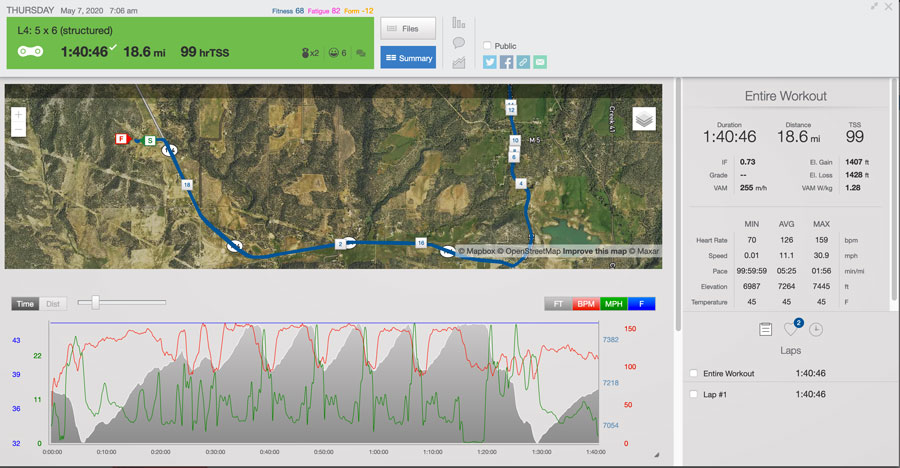 The 6 min intervals were hard but not sprint, blow your lungs out hard. One thing that is interesting about training with a heart rate monitor is that often I can back off of the gas a little bit and still be in the prescribed Zone.